WHICH LAMP ROCKS YOUR DINING ROOM?
The first thing to know when choosing lighting for your dining room is that this choice will have a major impact on the final look of your interior. But... no pressure 😉
Don't you worry. We'll guide you through it. With our tips & tricks as a guideline, you can't go wrong…
Fun & Function
Above the dining table you go for a real eye-catcher… A pendant, chosen to fit your table, as a statement piece of the style you have chosen. Here you can completely immerse yourself. The result does not have to be discreet. On the contrary.
But your pendant lamp should not only be beautiful. She also has to make sure that you can do everything you normally do around the dinner table. You have to be able to adapt the atmosphere and function to the moment: from a romantic dinner, a cozy apero with friends, over a board game to reading the newspaper or even working.
Make sure you can dim the hanging lamp! Choose dimmable LED lighting.
Size matters
Which hanging lamp is perfect for your dining table in terms of shape and size? It is very important that the pendant lamp illuminates not only the center, but the entire table. The attachment point is usually provided right in the middle of the table. If not, you can easily alter that. A handy man will fix it in the blink af an eye.
Tip: The lamp's diameter can be up to a maximum of half the diameter of the table
If you have a rectangular or oval dining table, be sure to choose a pendant with different fittings in the same shape so that the light is distributed well from left to right. You can also hang several hanging lamps next to each other to bridge the distance.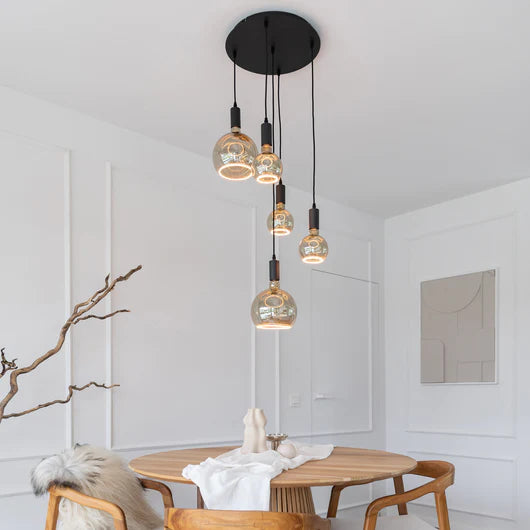 Above a round or square dining table, a lamp with a round ceiling plate looks beautiful. This can be a lamp with a single fitting but round lamps with several light points are also perfect.

The key question: How high should your hanging lamp hang above the table? 
Read 10 blogs and you'll get 10 different 'ideal heights'. It's not an exact science... The ideal height for your family depends on your own height. And more specifically on the height of tallest among you... When he (or she) is standing up, the bottom of the lamp should be about level with his (or her) eyes. Then, once everyone is sitting, no one will be dazzled by the glare of light in their eyes and the lamp will not be in the field of vision of anyone around the table.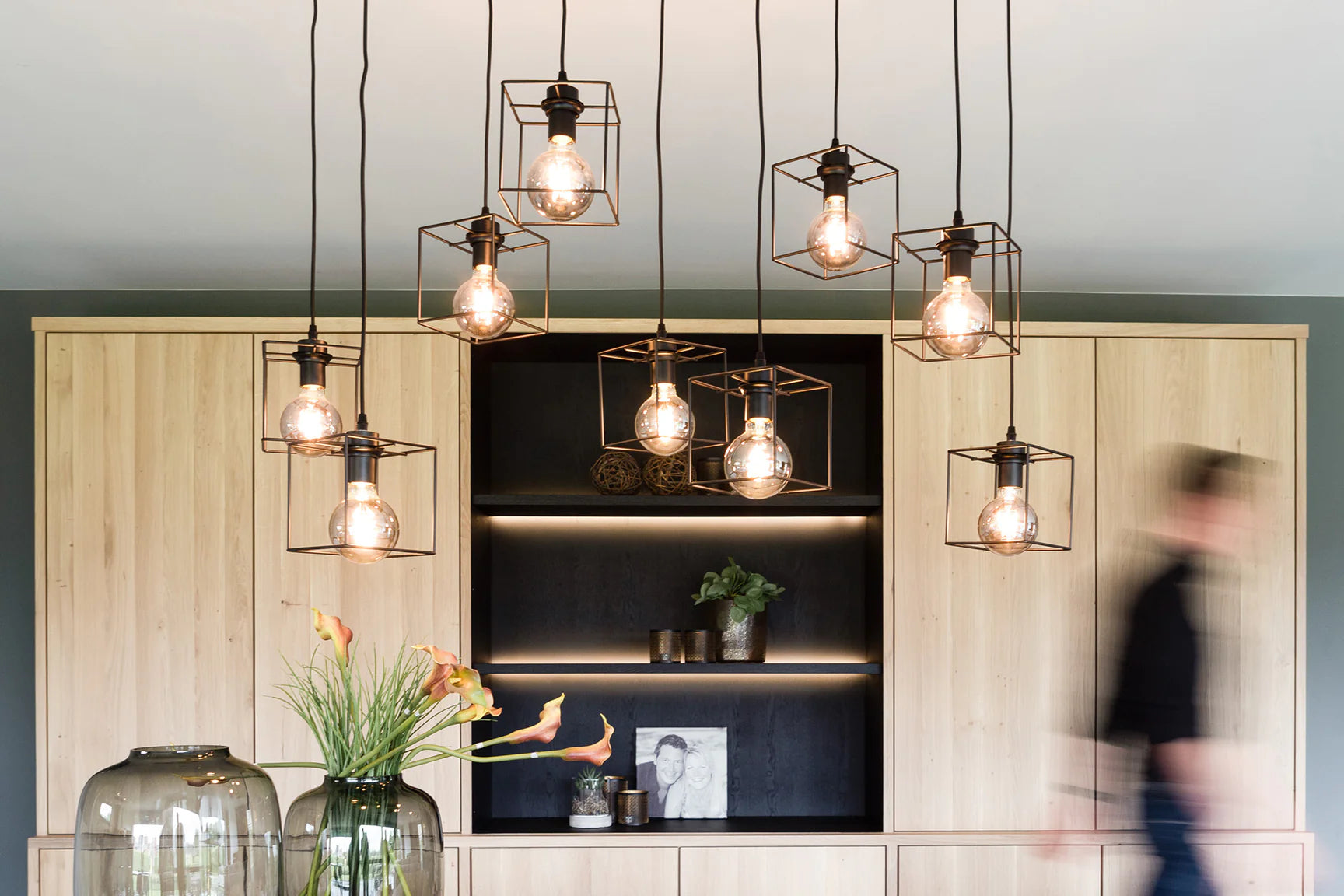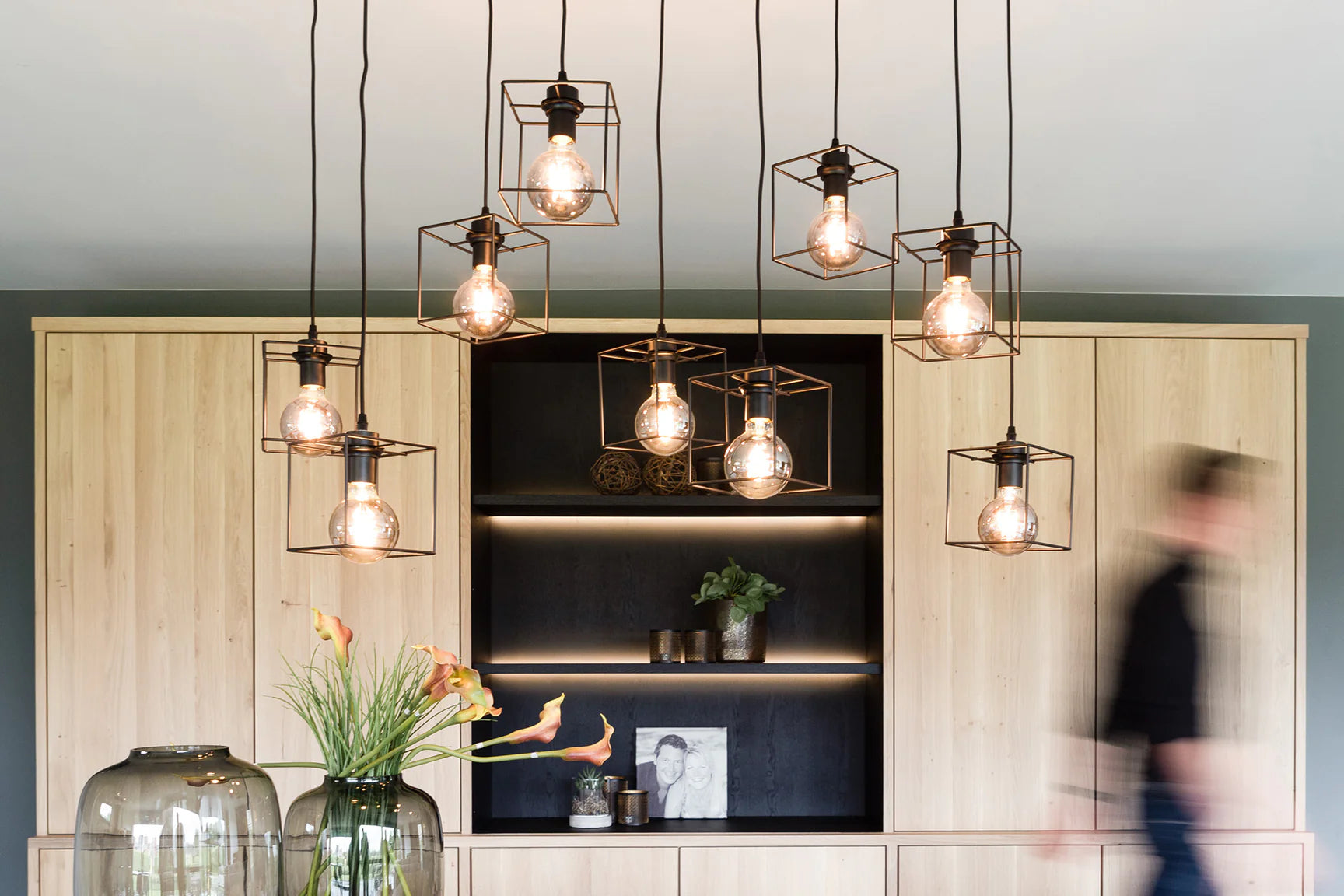 Tip: Don't make the mistake of hanging the lamp too high. It is important for atmosphere and function that the lamp remain connected to the dining table. Choose a hanging lamp that you can adjust in height so you can always create the perfect setting. Be sure to check out our Noury - collection ( mage above) 
Reinforcements
Because the dining room is usually a large space and often spills over into the kitchen and/or living space, your hanging lamp is going to need help to get the job done.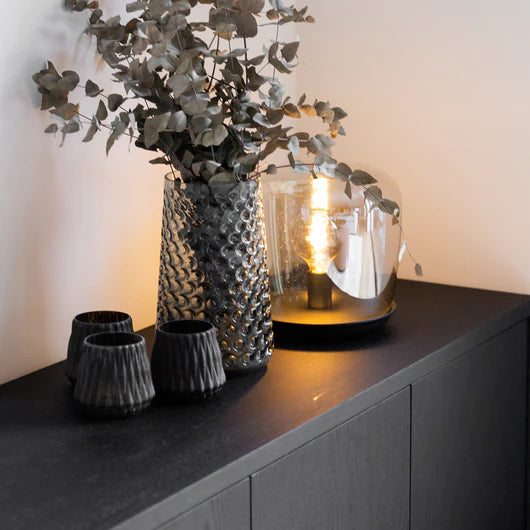 You can create atmosphere, beyond your chosen show stopper above the dining table, by adding a well-chosen table and/or floor lamp. These don't have to be the same, as contrast is good, but they should be in the same vein. The Unami table lamp is a beautiful piece that fits any style because of its contemporary class and timeless design.
For proper cover, you need ceiling lights or spotlights and wall lights.These provide a general, even distribution of light throughout the room. Think of a theatre: before the show starts, the basic lighting makes it easier for you to find your seat. Our Nuo-collection in black and white can be used throughout your interior. This way you create unity and calm.
All you have to do is follow these tips to find the perfect hanging lamp for above your dining table. Have fun shopping!