IN THE RIGHT LIGHT: HOME OFFICE
The warning to 'stay at home' is still ringing in our ears. It's had a huge impact on us all… and on every facet of our lives. Working from home became the new normal. We've all had to be pretty adaptable as a result. All at once, we had to sleep, eat, relax, and work in one and the same place. Often alongside our partner. Not to mention the kids. And the cat. To be able to function optimally, it is important that you make your home office a pleasant place to work. A place that creates a vibe that automatically puts you in 'work' mode. We're happy to lend a hand with this! Read our tips to make your home office both functional and pleasant.
You can probably hear it coming… at the top of the list is:
The right work light for your Home Office
Lighting is pivotal to making your home office a success! If possible, find a place with natural daylight. Daylight contributes to concentration and productivity and makes you feel more relaxed. (Want to know more about why daylight is so important and how we can get more of it into our own homes? Then be sure to read our blog: 'It's all about daylight: what is CRI?' Unfortunately, daylight alone isn't enough. That's why we have to make some important choices. 
Basic lighting
Lighting from above that evenly illuminates the room. These are things like pedant or ceiling lights.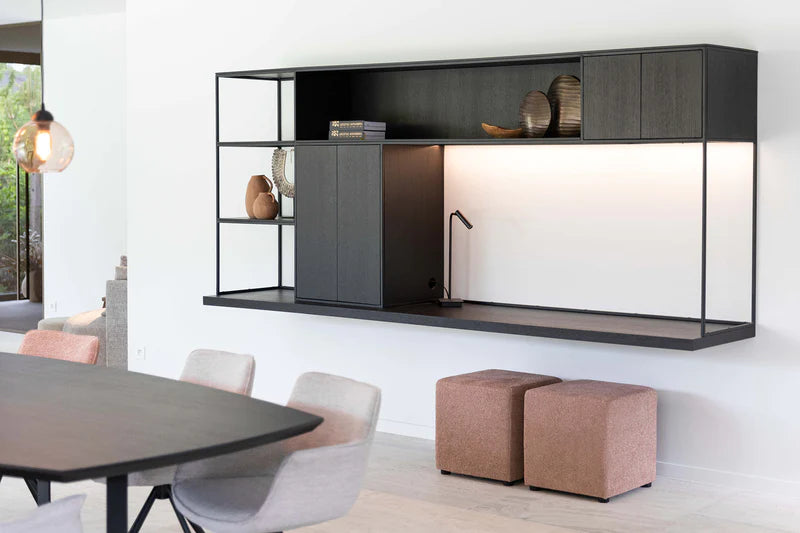 Work lighting
A beautiful desk lamp is ideal, of course.
This fills two needs with one deed! Fun & function. Go for a designer pendant lamp above your work space or a trendy desk lamp on your desk.
Important! Take the choice of light source  into account! The ideal colour temperature for working starts from 3000K. The higher the value, the whiter/colder the light.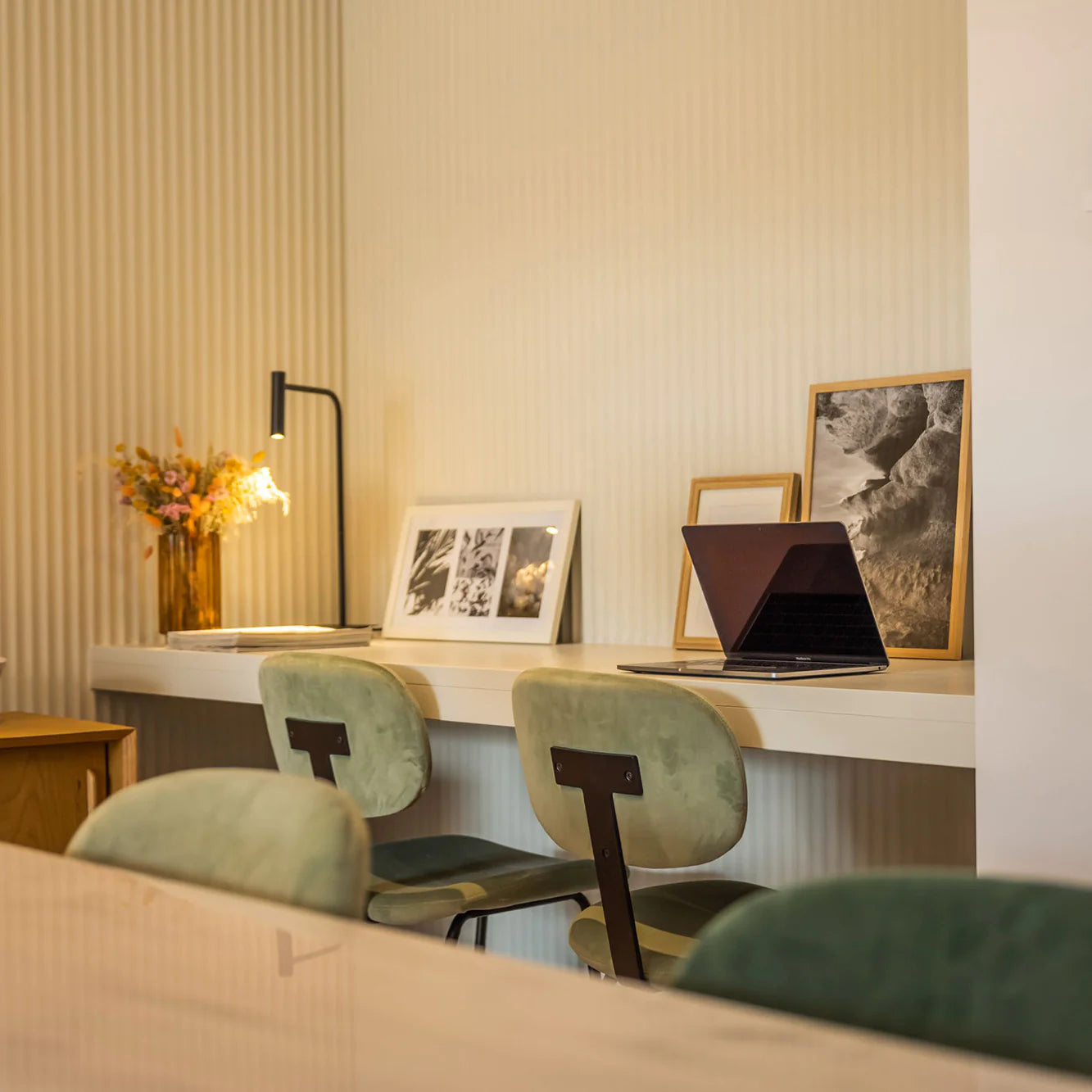 Green 💚
Besides the simple fact that plants are just very decorative, they possess properties that you wouldn't believe!
- Plants in your Home Office = peace in your mind Green, like blue, is a relaxing, soothing colour. It also radiates energy and strength. 
- Plants in the house = healthier home. 
- Plants have been proven to improve air quality. They filter out harmful substances and dust particles from the air, release oxygen, and increase air humidity. 
- Being around plants has a positive effect on your focus, memory, and productivity. A study by the University of Michigan found people's memory improved 20% when in an environment with plants.
What's not to like!
Be kind to your senses 
Touch: make sure you maintain an ideal temperature, which would be 22°C in the office.  Not too hot (so you don't fall asleep 😉), and not too cold, so you can keep your focus.   
Sight: I refer back to point 1 here.
Hearing: Golden tip: invest in headphones. They keep noise out or provide your favourite go-to music right in your ears.
Smell: Smell is important for our well-being. Check out these examples:
- Rosemary: more focus
- Citrus: increases productivity
- Lavender: calming
- Mint: ideal for meeting that deadline
Personalisation
It's your home. So continue your interior style into your home office. Buy your favourite stationary, make sure you have a good desk and bulletin board, and pick out some cool photos or posters. Also make sure there is enough storage space. There's nothing more tiring than a messy room… Tailor your lighting to the needs of your home office, buuuuut keep it stylish! Try to get into a routine and really think of your Home Office as an 'office'. Go to your home office to work and take your breaks on your patio or in the kitchen. The most effective thing you can do is set a schedule and stick to it. This way, your body will come to know when it is time to work or relax.
I wish you good luck juggling and balancing on an often perilous tightrope.😉