EDGY & TOUGH! THE INDUSTRIAL STYLE
In the industrial style, the main focus lies on the materials: concrete, metal, spruce, leather,... Think 'rough around the edges' and 'perfect imperfect'. Pure No-nonsense. This style is also enhanced with powerful accents and contrasts. Given its neutral basis, you can definitely pick out a small selection of well-chosen statement pieces. A cool standing or hanging lamp in metal will look amazing against the rough stone wall or concrete floor. Do you dare?

Textures

Colours
Basis: colours & materials
The industrial style of living grew out of a love for buildings with that quintessential warehouse look. Lets paint you a picture: large open spaces, unfinished, rough... High ceilings, steel windows, concrete ceilings & floors. Think of a cooler colour palette that serves as a neutral base: black, white, shades of grey, light green and brown. These colours go perfectly with this style's characteristic materials: concrete, lime, wood, brick, steel and leather.
The combination of a cool colour palette and rough, authentic materials is irresistible! 
The more authentic, the better. So don't be afraid to leave a few things unfinished. By all means, leave that beautiful exposed brick wall exactly as it is. A visible cable or a pipe in plain view? Yes please!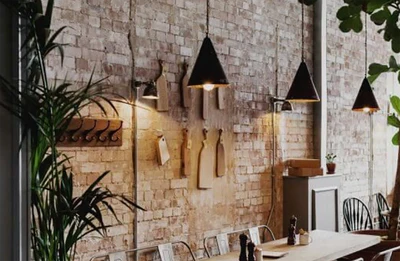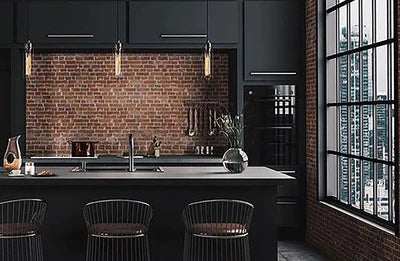 Go bold, go big
Since the basis of an industrial interior is neutral, you need solid eye-catchers to take your space to the next level. This could be a metal staircase, an old elevator shaft (yes, like in the movies, we wish  ), but your furniture could be a perfect eye-catcher. Be sure to continue the use of authentic, natural materials throughout the space. A leather Chesterfield, a steel apothecary cupboard, a life-size painting, a wooden scaffolding dining table with a metal base... Surrender and let go of the urge for perfection and see the beauty in flaking paintwork or a few dents or a scratches here and there. The fact that these pieces have had a whole other life gives them just that little bit more character.
Lighting as a finishing touch
Start by picking out the pièce de résistance and use it as the cornerstone when choosing the rest of your lighting. Search for items from the same family but make sure there is enough variation to keep your space interesting and unique. Don't be afraid to switch up materials, it's allowed! As a statement piece, the choice is obvious. Go for an industrial hanging lamp above your dining table or island. Depending on the size of the room, you could also add a cool floor lamp. Wall and ceiling lights will bring everything together and creating a cohesive whole.
What's more, the choice of light source largely determines the final look and style of your main lighting. To complete the industrial look, why not choose Filament LED lamps? The visible 'filaments' give the whole a vintage vibe. Just like an old light bulb. Not! Looking for extra warmth for your open space? The Segula Floating Globes are brand new but look like they were made for your industrial interior.
Industrial Elegance
At Atmooz, we like to put our own stamp on things. And we like to add an extra touch of refinement. Let's call it 'Industrial Elegance'. That's why our designs are versatile and multi-purpose. Not just for full-on industrial interiors... Think of a mix of rustic minimalism & industrial. Or Japandi with an industrial touch. Don't be afraid to go off piste. An original, idiosyncratic take makes for interesting combinations. It's so very you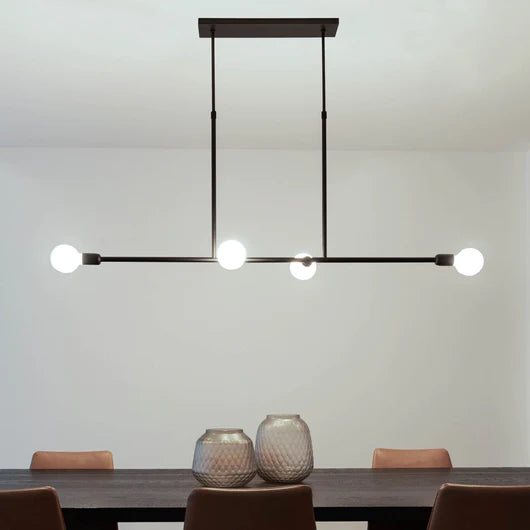 Dot the i's
Simplicity. Sleek design. Raw materials. Our pendant Dots effortlessly takes over your dining room with his strong look.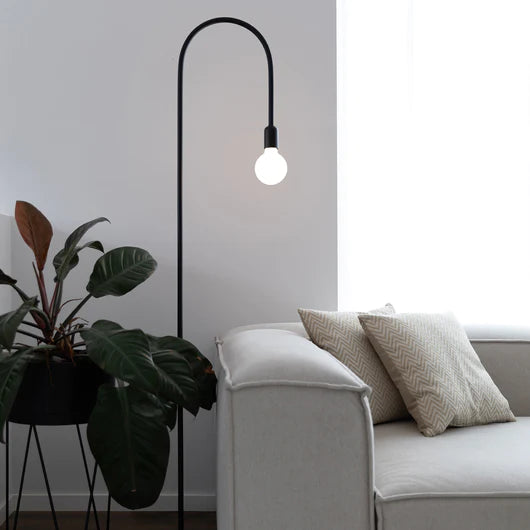 Simpel, raw, Rye
The Rye floor lamp checks all the boxes. Black metal: check. Exposed light source: check. Quirky design: check!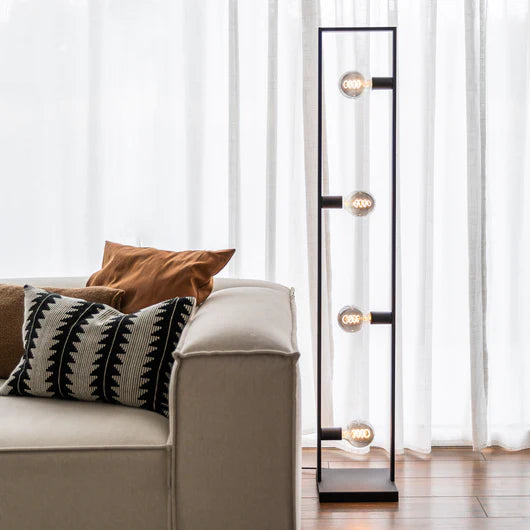 Rock 'n Riley
The industrial style breathes rock 'n roll. The Riley floor lamp makes a statement. Sleek frame, vintage Edison Spiral LED light sources.