5 TIPS FOR AN INSTANT COSY LIVING ROOM
Want more ambience and balance in your living room? Having a cosy home is especially important during the festive season! Read this blog to discover five tips for creating the stylish, warm ambience you've always wanted in your living room.
1.Get the base right.
Keep the base simple: choose a natural, calming colour scheme with matching tones for the larger surfaces in the room – you want one base colour to apply in different shades throughout the space. This could be the walls and ceiling, but also the window decorations and larger pieces of furniture, with the sofa as the main focus – providing tranquility and creating a sense of spaciousness. A minimalist base also gives you more scope for the rest of your interior design.
2.Don't forget the rug.
What are the benefits of having a rug in your living room? As well as providing extra warmth – particularly important in the current climate – and adding extra soundproofing, a rug will help you feel cosy and comfortable. Furniture can sometimes look a bit stranded in open spaces, but rugs can bind all the different elements in your room together and create a sense of unity in your home.
When choosing a rug, use your base colour scheme as the starting point to enhance the sense of spaciousness – go for a colour that blends in well. The other, bolder option is to pick a contrasting colour and/or pattern to accentuate your living room style or personality. Being playful with different textures can also spice things up!
3. For ambience, you need LIGHTING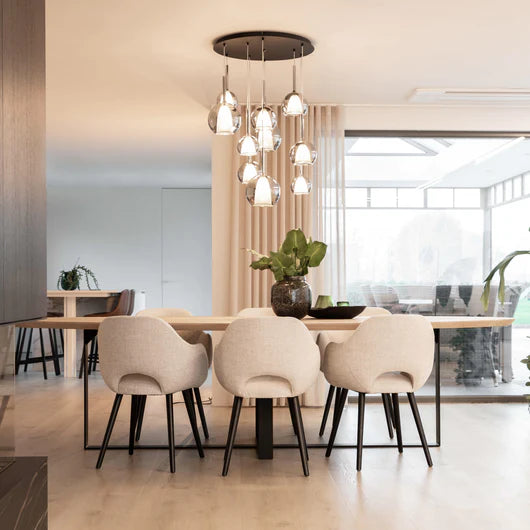 Lighting can be a real deal-breaker for the ambience in your living room. Functional lighting, such as spotlights or an attractive pendant light above your dining table, is essential.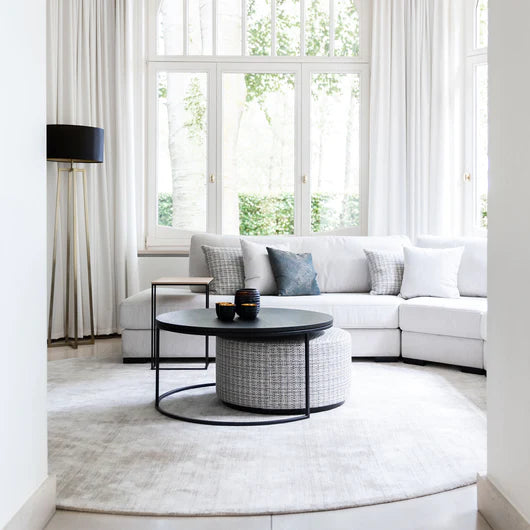 But in your living room – your cocoon of calm – only that unique table lamp on the sideboard or statement floor lamp next to your armchair can provide the perfect Atmoozphere 😉.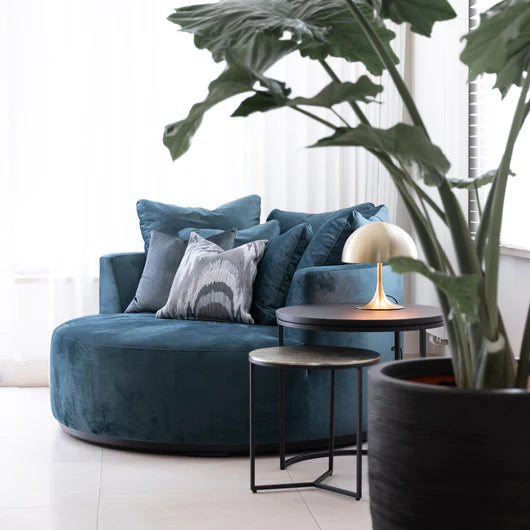 And, as the cherry on top, you can make it extra cosy with a few stylish and homely tealight holders. Candlelight always sets the mood like nothing else will...
Tip: are you a fan of the 'Visible Light Source' trend?  Then by simply changing the light source, you can give your lamp a totally new look and atmosphere. 
4. Get creative with decorations
Your living room doesn't have to be a 'furniture palace', but a few well-chosen items can bring balance to the whole space. Create a cosy corner, with a comfy chair and charming side table, where you can enjoy chatting. And why not include a pouf in your interior design? This has the benefit of providing extra seating for visitors, while perfectly complementing your coffee table and injecting some colour and contrast in your room. Throw in some matching cushions and hey presto… the scene is set.
5. Finishing touch: make it personal
Now it's time to get personal… so you can't go wrong here. Choose things that mean something to you and make you happy. A painting that catches the eye, for example, or photos of your family, atmospheric candles, that lovely souvenir from your last trip abroad, a mirror above the sideboard, your favourite books…
And to top it all off: plants! Do you have a gap somewhere that needs filling? A beautiful potted plant can be the perfect solution – giving your home a vibrant, optimistic vibe. 
Tip: hanging plants create a real urban jungle feel and add an extra dimension to your interior.
So there you have it – hopefully this blog can help you make your home extra cosy! For even more inspiration, visit our 'Shop by style' page to discover your favourite interior style.