QUIRKY MID-CENTURY MODERN
The period after World War II was bursting with opportunities that made people rise above themselves. This enthusiasm and creative drive gave rise to the Mid-century modern movement. Many iconic designers found their voice and shouted it out! Chanel, Christian Dior, Charles & Ray Eames, Knoll, ... to name but a few. No wonder we draw inspiration from this fascinating style to this day!

Textures

Colours
Basis: colours & materials
A Mid-century modern interior can be recognised by its clean lines, soft organic shapes and love for different, sometimes contrasting, materials. It is precisely this use of materials that made the designs so new, so progressive. The mix of traditional materials, such as walnut and leather, and less obvious materials such as metal, glass and even vinyl and plexiglass, breathed new life into the design world. All in all, the Mid-century interior usually starts with light and warm tones such as beige, brown and other natural hues. As an accent, you can push the boat out a little with this style. Think dark green, warm rust and salmon pink, pearl grey and last but not least... black & gold. Please note: This style is sometimes compared to Retro but it sets itself apart by avoiding bright surfaces and plastics.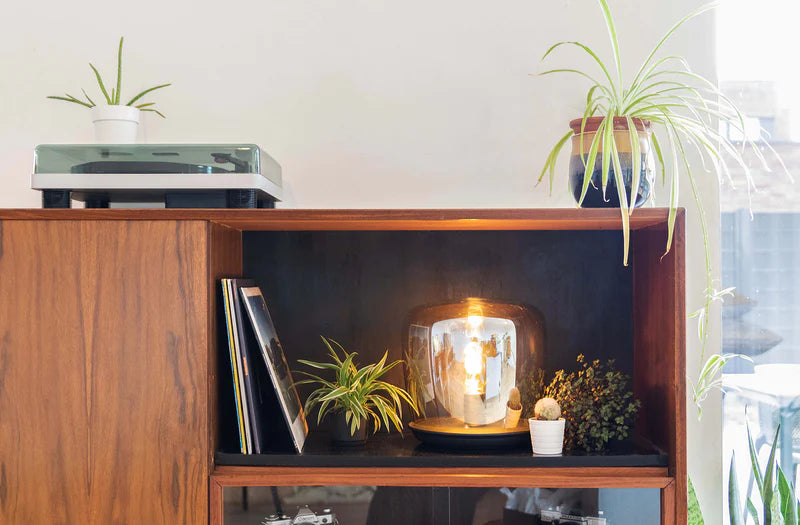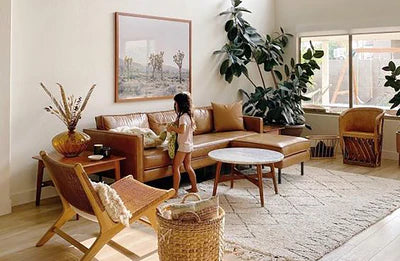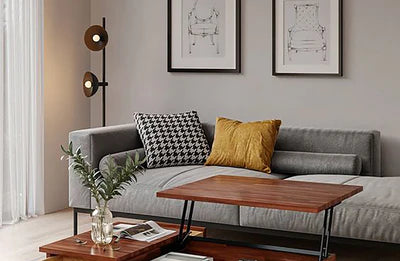 Where old meets new
Bring the Mid-century modern vibe into your interior but don't feel obliged to create a perfect replica. You can achieve this style in several ways.
For example, you can be inspired by a specific spark, as it were. Go for that one vintage piece that sets your heart racing... Perhaps the iconic Vitra lounge chair by Charles Eames? Go for it, even if it's not cheap (but always a good investment  ), and build your interior around it. You don't have to follow the style's rules slavishly, but avoid too many patterns and stay within a colour range, especially for wood.
You can also begin with a clean basis. Starting from a neutral colour palette, opt for a classic and timeless walnut or honey oak parquet. The typical herringbone or quadratic pattern is very much in-style. Add accents in edgy black, warm rust and salmon pink to subtly link to today's trends. This way you can create the perfect basis to let your design pieces shine. 


Finish it!
Bold lighting is another essential accessory to catapult your home into this artistic era. Look at a Mid-century modern home and you're sure to see dazzling modern marvels dangling from the ceilings or sleek side tables bathed in light. Unique hanging lamps and luminaires are not only functional, they are also an art form. 
Textbook example: Camau hanging lamp
Great. Festively elegant. Bright & shiny. A touch of gold. The Camau hanging lamp is just the eye-catcher you need for your Mid-century modern interior!
Mad man chique with the Eden table lamp
This interior comes straight from the iconic series that breathes Mid-century! Art. Design seats. And a statement lamp!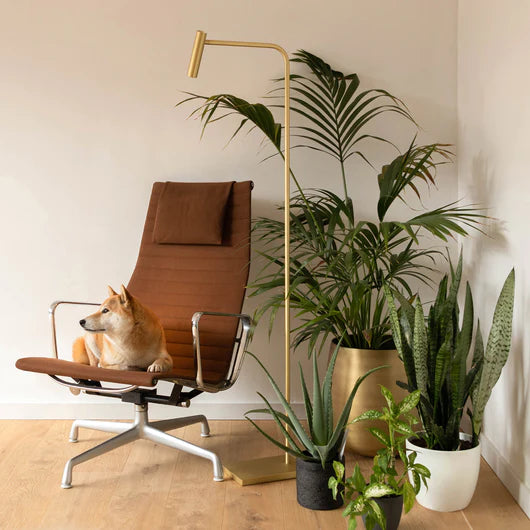 Pomery puts the modern in Mid-century
Velvet. Deep warm greens. And then there's the Pomery floor lamp in antique brass, with its clean lines and a vintage light source. Perfect match!
Ready for your Mid-century modern interior? Then go for that great love! ❤